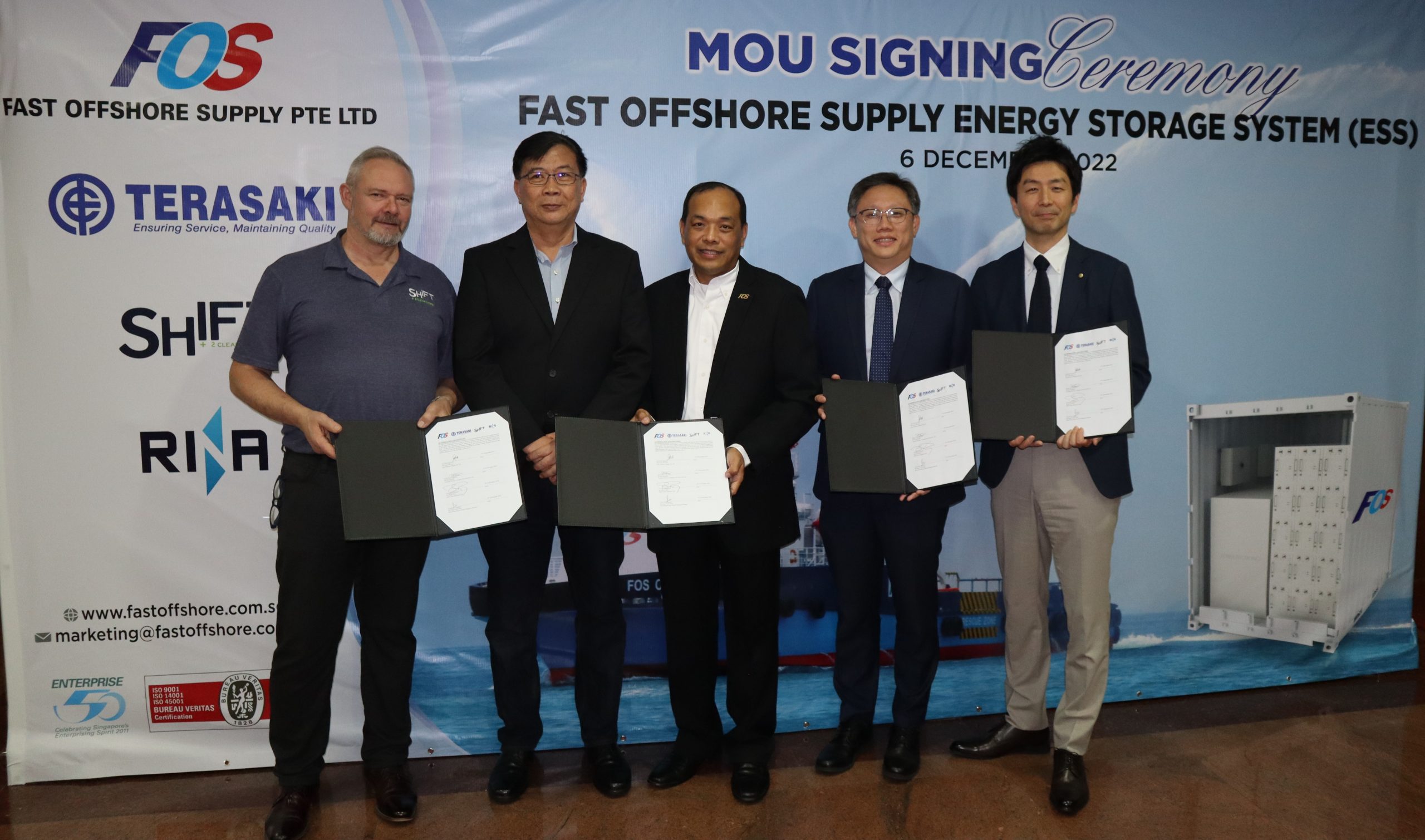 Terasaki has signed MOU with FOS, Shift Clean Energy and RINA for the integration of an Energy Storage Systems on their fleet.
December 6, 2022
Today 6th December 2022 Terasaki signed an Memorandum Of Understanding with FOS, Shift and RINA in an official ceremony.
Fast Offshore Supply Pte Ltd Asia's largest offshore crew boat operator has signed an MOU to jointly develop an Energy Storage System (ESS) with Terasaki Electric Co. (F.E.) Pte Ltd, Shift Clean Solutions Ltd. (Energy Storage Solutions & Renewable Energy Charging) and RINA (provider of classification and technical services to the maritime industry) for the FOS Fleet as part of FOS "Green Initiative and Sustainability Program" to cut vessel carbon emission.
The ESS system will be a containerised version where it will have a "Plug and Play" connection to connect with the vessel's Electrical System. Terasaki Electric Co. (F.E.) Ltd will be providing the in-depth know-how to upgrade the existing vessel MSB and PMS for the vessel electrical system while SHIFT will provide their latest State-of-the-Art Marine Approved Batteries and operational software (OnWätch) for the FOS's ESS system. RINA will be review the ESS systems and provide the Approval in Principle (AiP).
Mr. Ryo Katsuki – Managing Director of Terasaki Electric Co. (Far East) commented:
"FOS's "Go Green Attitude" is absolutely amazing! The way they talk about decarbonisation and how to help the environment really thrilled us. With this project, and many to follow, we are determined to show our commitment to working towards a better, healthier, and sustainable environment. We are happy to work once again side by side with Shift Clean Energy and RINA to support FOSs "Green Initiative and Sustainability Program". Together, let us contribute to cleaner seas."
Mr Brent Perry – CEO and founder of Shift Clean Solutions commented:
"We are thrilled to work with Terasaki, RINA and Fast Offshore Supply to electrify these advanced crew transfer vessels. It is a privilege to join forces with forward-thinking organizations and we know that this is only the beginning of an impactful and exciting project and wider mission to decarbonize the marine industry as a whole."
Mr Simone Manca – Asia Regional Senior Director at RINA commented:
"The shipping industry faces unprecedented challenges as environmental regulations tighten. RINA is honoured to work with like-minded partners, FOS, Terasaki and Shift Clean Solution in providing a solution to comply with the regulations and contribute to reduction of carbon emission in shipping. We are excited to be part of the MOU to create a sustainable future for the benefit of all maritime stakeholders and the environment."
About Fast Offshore Supply Pte Ltd:
Fast Offshore Supply (FOS) is a Singapore-based company that provides design, manufacturing, and operational services to one of Asia's most advanced fleets of Fast Multi-purpose Supply Vessels (FMSV). Fast Offshore Supply provides the marine industry with fast, efficient and comfortable transportation of passengers (both seated and in-cabin) with its 'Master of the Sea' vessels in Fast Cargo Transfer, Fast Passenger Transfer, Towing, Emergency Rescue and Response, Fire Fighting, and Oil Pollution Control. Jointly designed by Naval Architects from Norway and Singapore, FOS vessels support both exploration and production activities in the oil field for clients such as Exxon Mobil, Shell, Chevron, CNOOC, Premier, Stat Oil, ENI, Conoco Philips, Lundin and more. Fast Offshore vessels have operated throughout Malaysia, Indonesia, Thailand, Brunei, Philippines, Myanmar, UAE, Nigeria, and Australia.
About Shift Clean Energy:
Shift Clean Energy provides energy storage solutions to decarbonize the marine transport industry and other hard-to-abate sectors. Shift enables customers to meet their climate action and ESG goals with clean energy solutions based on leading-edge energy storage systems. Understood to be the safest and most reliable energy storage solutions on the market today, and the first commercial marine solutions company to offer pay-as-you-go PwrSwäp subscription energy systems. Customers save money from day one through electrification, integrating ESS and renewable energy for both commercial and maritime applications. Shift now has offices in the US, UK, and the Netherlands, with a new office under construction in Singapore. Join us on our mission to zero emissions.
About RINA
RINA consists of the parent company RINA S.p.A., the holding which controls the main sub-holdings RINA Services S.p.A. and RINA Consulting S.p.A. In order to ensure compliance with the applicable recognition, authorization, notification and accreditation rules, including those relevant to the management of impartiality, RINA has adopted a governance and organizational model. According to this model, the sub-holdings are subject to direction and co-ordination by the holding in the finance, administration, strategic, organizational, managerial and business continuity fields, while technical and operational decisions remain under the exclusive responsibility of the sub-holdings and their controlled companies. The strict separation of duties in the governing bodies and the impartiality risk assessment, which identifies and manages the impartiality and conflict of interest threats coming from the company relations, ensure compliance with the applicable impartiality rules.
https://www.rina.org/